Explore The Best Nintendo Gameboy Games Ever Released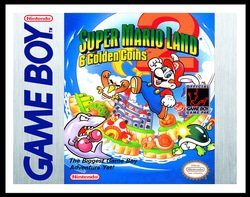 Pocketheaven.com is a fan of new innovative handheld devices like the PlayStation Vita and Nintendo's 3DS, but then again their advancement is based on the handheld systems that have preceded them. In spite of the fact that it had less significant forerunners, the undisputed of all handheld gaming devices is without a doubt Nintendo's first Game Boy system. Not only did this mini device promote portable gaming, it was also home to an abundance of amazing gaming titles. Join us as we take a look at the five best Nintendo Gameboy games ever and discover why they are considered as the top Gameboy games of all the time.
NINTENDO'S 5 MOST POPULAR GAMEBOY GAMES
1. TETRIS - June 14, 1989

Tetris is one of the world's best Nintendo Gameboy games and made its appearance on June 14, 1989. The game's simplistic nature quickly captured the imagination of players, simply by stacking falling blocks into rows.The Game Boy version of Tetris alone has sold over 35 million copies around the globe and up till now, still keeping players enthralled. No wonder this old timer is considered as one of the top Gameboy games of all the time.

2. POKÉMON RED, GREEN AND BLUE - February 27, 1996

Nintendo stunned gamers all over the world when they rolled out the Pokémon Red & Blue series on February 27, 1996. This was the first generation of a collection that would sell over 31 million copies around the globe. This game invites players to catch little creatures known as Pokémon, raise them and make them battle against each other. The task of catching all of the creatures made this game a huge success with younger players and one of the best Nintendo Gameboy games.

3. POKÉMON GOLD AND SILVER - November 21, 1999

After the smashing hit of the first Pokémon series, Nintendo released a second instalment with its Gold Version and Silver Version on November 21, 1999. While these games kept the basic methods of catching, fighting, and advancing through the stages, other new characteristics were added. The games presented players with 100 new species of Pokémon, a time system featuring with a real-time internal clock that holds track of the current day of the week and the actual time. Pokémon Gold and Silver continued the accomplishments of its forerunners and more than 23million copies have been sold worldwide.

4. SUPER MARIO LAND - April 21, 1989

It is considered that the Super Mario Land game was the most state-of-the-art title for the Game Boy. The game was released on April 21, 1989, and sold over 18 million copies across the globe. Super Mario Land game became popular amongst players, showing them just how much fun they could enjoy with their most adored plumber on his latest system. The entrancing soundtrack and straightforward gameplay made sure that players will always come to finish their heroic adventure to save Princess Daisy. The graphics of the game was modest; however, the gameplay was intuitive and amusing, presenting players with all the splendour of a standard Mario title.

5. POKÉMON YELLOW - September 12, 1998

Pokémon Yellow was the first Pokémon title that successfully attracted people to the TV show. This was an improved version of Pokémon Red and Blue and was released on September 12, 1998. The Pokémon Yellow addition was particularly popular as well as profitable due to its clever marketing campaigns and promotions. Players were given the opportunity to buy the game in a bundle that consists of a limited edition yellow Pokémon- themed Gameboy handheld device. Moreover, the gaming title was scheduled to be rolled out around the debut of Pokémon: The Movie, which cleverly helped to boost sales. More than 150,000 pre-orders of Pokémon Yellow was reserved and, once it was released, many stores could not keep up with the demand of the game. In just one week since its release., more than 1 million copies had been sold, turning it into one of the fastest selling and best Nintendo Game Boy games of all time. Pokémon Yellow is still in high demand in the year 2017. Up until now, more than 14 million copies had been sold.
Main Menu
---
Gameboy Game Reviews