Casino FunPak Game Review and Features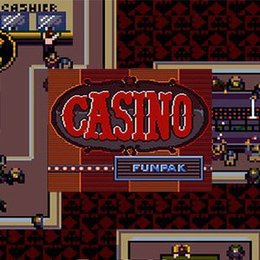 Casino Fun Pak is the little game that brought Vegas to you and is featured on Pocket Heaven because of its fun features. This little gem featured all the games of chance you'd find in a real-life casino and let you test out your luck. Casino FunPak features slots, video poker, craps, roulette, blackjack, and more. There was a tournament mode and players could also tour the virtual casino. Gaming on the different types of Game Boys was never so much fun and you didn't have to spend any money. Some of the great features of Casino Fun Pak include:

Casino games such as slots, video poker, craps, roulette, and blackjack
Tournament mode that takes players on a tour of all five games
Three excellent slot machines
5 draw video poker
Craps tables to help players master their skills
Beat the dealer in Blackjack
Exciting roulette games
Casino FunPak Gameplay
This fun title features five different casino games and players begin with a $10,000 in virtual cash. When all the money is gone, players go back to the main menu. The first thing players have to do is choose the casino game they want to play.
In craps players set the bet they want at the start of the game. There is no limit to the size of the bet and it goes up one dollar at a time. It's a great way to learn how this exciting dice game works.
There are three video slot games to choose from and the maximum bet amount is the amount in the player's bankroll. Bets increase by five dollars each time. It's not the most sophisticated of games but it does give players an idea of what they can expect.
When playing video poker, the player uses button A to set the bet amount and again it goes up by five dollars each time. The cards are dealt and it is up to the player to choose the ones they want to keep to in order to get a payout.
Roulette has always been a game of chance and in Casino FunPak there is no maximum bet and the bets increase by one dollar at a time. Can you predict where the ball will land when the wheel is spun?
Blackjack is where players try to beat the dealer by getting a hand value greater than them whilst not going over 21. It's a very popular game and there is no betting limit in this title. All bets go up by one dollar at a time as you play.
One of the great things about Casino FunPak is that it allowed players to learn the rules of the different casino games and have some fun while doing so. Of course, things have changed today and the internet has really changed the way we live our lives.
Evolution of Casino Games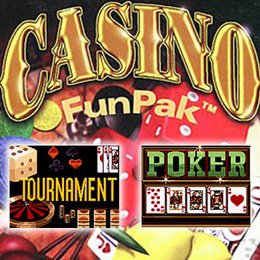 Casino games have evolved and now Canadian players can win real money from the comfort of their home. Games are now easier to play too and a lot more fun. Software developers are always updating their technology to create the best gaming experience for players no matter what type of device they use. There are some software developers that lead the way in online gambling and these include Microgaming software, Playtech, NetEnt, and IGT. These companies design and deliver the highest quality content that they can and their casino games are highly entertaining.
Many of today's online casino games include HD graphics and cinematic quality graphics that weren't possible back in the day of Casino FunPak. The games can also come in 3D format and immerse players in their storylines. There's even live casino games where players can enjoy everything a real brick and mortar casino has to offer without having to leave their homes. We have evolved from 2D to 3D graphics and today, virtual reality is also making its mark on the gaming industry. The internet has paved the way for all of this to happen and the games keep getting better and better.
Instant millionaires have been created thanks to progressive jackpot slot machines. These are the most popular titles for many at online casinos and they can come with unique features like cascading reels, stacked wilds, free spins, bonus games, multipliers, and massive jackpots. Some of the latest slots also come with engaging storylines too that allow players to get involved in the game. Advances in technology have allowed all of this to happen and from a small handheld device game like Casino Fun Pak, we now have massive online gaming sites where players can play for real money whilst still experiencing the thrill of Vegas in their hands.
Main Menu
---
Gameboy Game Reviews